Must-Have Trailer Hitch Accessories for a Seamless Towing Journey
Must-Have Trailer Hitch Accessories for a Seamless Towing Journey
SCOTT MCCUSKEY @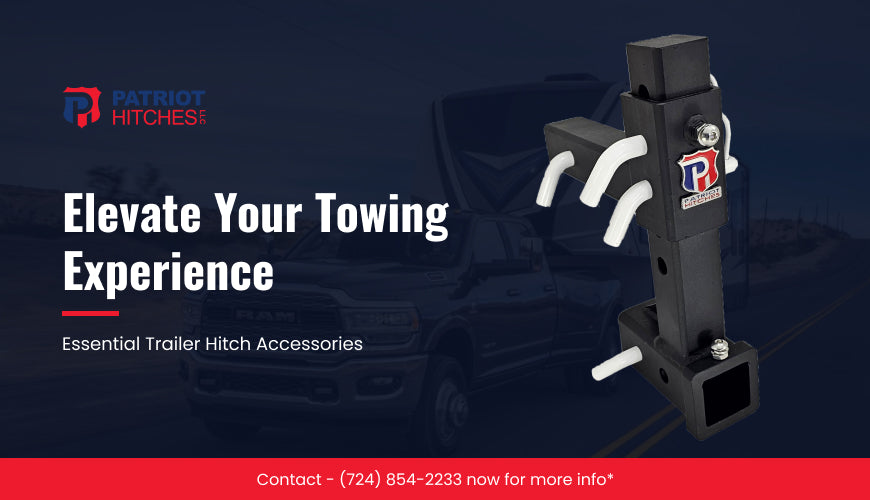 When it comes to towing, having the right equipment is paramount for a safe and hassle-free journey. In this article, we'll explore the must-have trailer hitch accessories that are essential for a seamless towing experience. Discover how Patriot Hitches offers a range of high-quality accessories and hitches that elevate your towing journey to new heights.
Hitch Locks: Secure Your Investment
Hitch locks are the first line of defense against theft and unauthorized access to your trailer. By ensuring a snug fit between the hitch and the receiver, a hitch lock provides peace of mind while you're on the road or parked.
Trailer Ball: The Connection Point
The trailer ball is a fundamental component that connects your trailer to the towing vehicle. Choose the right size and weight rating to ensure a secure and reliable connection, preventing swaying and promoting balanced towing.
Wiring Harness: Lights and Signals
A wiring harness enables communication between the towing vehicle and the trailer's lights and signals. This accessory ensures that other drivers can see your signals and brake lights, enhancing safety on the road.
Weight Distribution Hitch:
Balance and Stability For larger trailers, a weight distribution hitch is essential to evenly distribute the weight between the towing vehicle and the trailer. This promotes stability, improves steering control, and prevents excessive strain on the towing vehicle's suspension.
Sway Control: Minimize Swaying
Sway control devices are designed to reduce trailer sway caused by crosswinds or sudden maneuvers. By providing additional resistance, these accessories enhance stability and control during towing.
Patriot Hitches: Your Accessory Expert
Patriot Hitches offers a range of essential trailer hitch accessories designed to enhance your towing experience. Whether you're a seasoned tower or new to towing, our expertly crafted accessories ensure a secure and confident journey on the road.
Benefits of Patriot Hitches Accessories
Quality Assurance: Patriot Hitches accessories are built to last, ensuring durability and longevity in various towing conditions.
Customized Solutions: With a variety of options, Patriot Hitches offers accessories tailored to different towing needs and vehicle types.
Expert Guidance: Our team provides expert advice to help you select the right accessories for your specific towing requirements.
Conclusion: Elevate Your Towing Experience
The right trailer hitch accessories can make all the difference in your towing journey. From hitch locks to sway control devices, each accessory plays a crucial role in enhancing safety, stability, and overall towing performance. Explore the full range of trailer hitch accessories & elevate your towing experience with Patriot Hitches.
0 comments
---